Skip to main content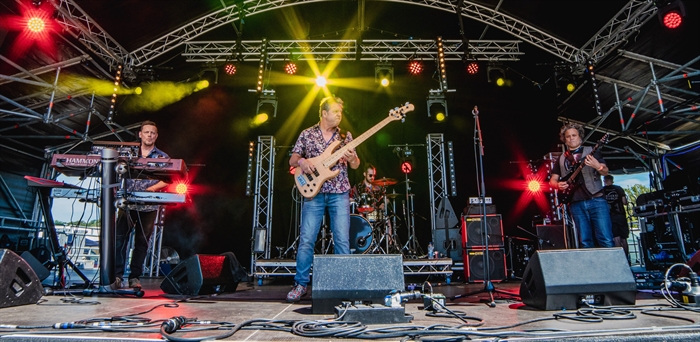 Slinky Machine
The Coolest Jazz Funk & Rare Groove At Its Finest On The Outdoor Stage
PERFORMANCE FROM 2.00PM MONDAY 28 AUGUST 
Slinky Machine is a four-piece instrumental jazz fusion band who are equally at home in a jazz bar as they are playing to a festival crowd, with a typical Slinky Machine set ranging from exciting original material, through jazz fusion classics, to classy re-workings of contemporary tunes.
Comprising drums, electric bass, electric guitar, and keyboards including lots of Moog and Hammond, Slinky Machine has been described as.
"A superbly exciting band fused by the coming together of musical maestros.
Slinky Machine's progressive jazz is just what it says on their tin; a slinky, sleek sound with riffs that cling to the memory and an almost-samba sinuousness that sways the body with the blissful warmth of a summer breeze." - Geoff Baker, former publicist for Paul McCartney
"What can I say. Amazing music last night and you guys must be so proud. The set, the arrangements, the slinky funky gelling of the band was top class stuff.
Thank you so much for honouring our venue with such amazing music." - Andrew Knutt, Director, Creative Innovation Centre CIC.
KINO CINEMA RYE , JAKE'S DRINKS , BALFOUR WINERY , PHILLPS & STUBBS , THE RYE RETREAT , BRAMLEY & TEAL HOLIDAY COTTAGES , WILSON WILSON & HANCKOCK , CARDINUS RISK MANGENMENT , JEMPSONS SUPERMARKETS , ROTHER DISTRICT COUNCIL , PARKER BUILDING SUPPLIES , HERINGTONS SOLICITORS , ARTHUR C TOWNER , SUSSEX PLUMBING SUPPLIES , EAST SUSSEX COUNTY COUNCIL , LAYFIELD'S , SENATE CONSULTING , CINQUE PORTS RADIO .
WATCH HERE