Skip to main content
FREE OUTDOOR COMMUNITY MUSIC
Sat, 26 Aug 2023 to 28 Aug 2023 11:00 - 21:30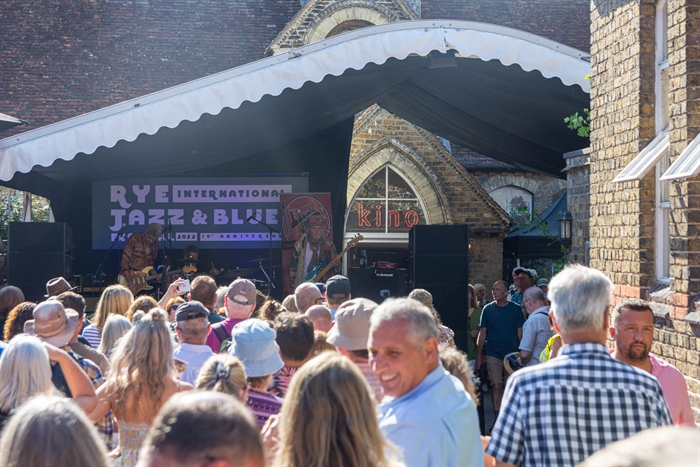 The festivals free outdoor music performances take place on the terrace of the Kino Cinema Rye, located at the top of Lion Street.
Music performances take place over three days on Saturday 26, Sunday 27, and Monday 28 August. Gates open to the public from 11.00am with live music performances from 12.00pm until 9.30pm each day.
What's On Each Day On The Outdoor Community Stage
All members of the public are welcome to attend, music lovers, friends and families as music unites us all together and greatly assists us in our enjoyment and mental health and wellbeing. Children under the age 12 must be accompanied by an adult, a member of family or a carer. 
NO FOOD, ALCOHOL OR SOFT DRINKS WITH THE EXCEPTION OF WATER IS PERMITTED INTO THE VENUE, THANK YOU FOR YOUR APPRECIATED COOPERATION
TRAIN SERVICES TO RYE - INDUSTRIAL ACTION ANNOUNCED FOR SATURDAY 26 AUGUST 
We are aware that the RTM Union have recently announced industrial action on Saturday 26 August. As far we we are aware services are nor affected on Sunday 27 and Monday 28 August. 
For information on train services please click on the following links:

SOUTHERN RAILWAY  - SOUTH EASTERN RAILWAY  - SOUTH WESTERN RAILWAY 
Donations 
As a non-for-profit organisation the festival will be asking those that attend our free music events to kindly consider a  suggested minimum donation of £5.00 to the festival which assists in the considerable costs (which are in excess of £26,000) in providing this wonderful free music. 
Thank you for your support, it is hugely appreciated.
Bar Facilities/Balfour Winery/Kino Cinema 
Alcohol and soft drinks are provided both outside and inside the venue and payments can be made either by card or in cash.
These facilities are managed and run jointly between Balfour Winery and the Kino Cinema. 
Surrendered Of Alcohol
On point of entry, alcohol will be surrendered. 
Food Facilities/Kino Cinema 
Hot and cold food options, ice creams, cakes, pastries, soft drinks and coffee will also be provided at the venue by the Kino Cinema. 
Toilet Facilities
These are provided at the venue including accessibility toilet facilities and baby changing. 
Medical Facilities
Experienced and trained medical staff will be present should there be the unfortunate circumstance that medical treatment may be required.
If you see someone in distress at the venue, please notify one of the security team, festival team or a marshal and we will call for medical assistance. 
Bag Checks
By law and subject to our license it is our responsibility to conduct bag checks on entrance to the venue.
This is for the safety of all those that are attending the festival and we will have dedicated staff and marshals to ensure that your entrance and exit to the venue is as swift and as easy as possible. 
Venue Security
Professional SIA trained security staff will be present at the venue to ensure safety and order is maintained on each day.
Venue Management 
The festival has a dedicated management team in place to oversee public safety, the running of the venue and the live music performances each day, which includes an overall venue manager and a supporting team of professionals and experienced volunteers. 
Festival Volunteers/Marshals
The festival has a designated number of friendly and helpful volunteer marshals that will also be at the venue to ensure that each day runs smoothly and to assist those attending have good and controlled access at the venue each day.
Weather Conditions 
We are expecting sunshine however, in the event of poor weather and wet conditions (rain) please ensure that you bring appropriate over garments (coats) to keep dry.
In the event of heat please ensure that you wear protective hats, appropriate sun protection, and remain hydrated as much as possible. 
There will be areas of cover from direct sunlight and heat within the stage marquee. If the weather conditions are extremely hot, the festival will provide additional shade where possible with gazebos and parasols. 
The event will only be cancelled in the unlikely circumstances that extreme adverse weather conditions (high winds and torrential rain) should deem it unsafe to proceed.
The organisers will make the appropriate decision based on the safety to the public, staff, musicians, and volunteers.
 Public Order
The festival reserves the right to evict persons from the venue should we deem this to be a necessary course of action, as the safety of the public, staff, performers, and volunteer is paramount. 
We ask members of the public to kindly be compliant and polite to our marshals if you are asked to move to enable access to be maintained.
Please note that whilst we wish everyone that attends to have a fantastic experience, we will enforce strict measures to maintain public order and safety.
Lost Children/Vulnerable Adults/Lost Property/Information Point
This will be located at a clearly signed and designated location. DBS checked and trained members of staff will be on hand to answer any questions, and to help locate lost children, vulnerable adults, and visitors to the festival. 
Waste & Rubbish Facilities
Designated waste bins will be provided at the venue, and we politely ask all those that attend to dispose of any waste responsibly in the facilities provided. 
Glass
The venue has a strict policy of 'no glass' and only the use of recyclable plastic glasses. 
Plastics/Cardboard
Plastic water and drink bottles, plastic, and cardboard food containers, and eating utensils will be recycled. 
Dogs
Dogs are permitted at the venue, but owners must take full responsibility for their welfare and ensure that dogs are not aggressive.
Owners of dogs that are deemed to be aggressive or in distress will politely be asked to vacate the venue. 
Smoking Facilities
Smoking is permitted but only in the designated areas provided at the venue.
We ask that all smokers are thoughtful and considerate to non - smokers, thank you for your cooperation. 
Emergency Procedures
In case of an emergency our trained security staff and festival marshals will notify members of the public, staff, volunteers, and musicians to evacuate the venue both inside and outside immediately.
Everyone will be directed to a safe designated evacuation point following our evacuation guidelines and procedures. 
Insurance 
The festival is fully insured to the level of £10 million public liability and employers' liability. 
Complaints Procedure 
All care and consideration has been taken into account to ensure that our events run as smoothly as possible in accordance with our approved licenses, health and safety guidelines and emergency procedures. 
Music noise levels will be carefully monitored on a regular basis throughout the festival to ensure the least possible disruption to residents, whilst also maintaining an enjoyable live music experience for all those that attend the festival. 
If you have an issue with noise or any other matter, please contact the festival on the following contact details.
We will aim to address any concerns as quickly as possible. 
Email: ian@ryejazz.com Mobile: 07931 755967 
We look forward to welcoming you to the 2023 festival.
WE GRATEFULLY ACKNOWLEDGE AND THANK OUR PARTNERS OF THE FREE MUSIC PROGRAMME FOR THEIR SUPPORT: 
KINO CINEMA RYE ,  JAKE'S DRINKS ,  BALFOUR WINERY ,  PHILLPS & STUBBS ,  THE RYE RETREAT ,  BRAMLEY & TEAL HOLIDAY COTTAGES ,  WILSON WILSON & HANCKOCK ,  CARDINUS RISK MANGENMENT ,  JEMPSONS SUPERMARKETS ,  ROTHER DISTRICT COUNCIL ,  PARKER BUILDING SUPPLIES ,  HERINGTONS SOLICITORS ,  ARTHUR C TOWNER ,  SUSSEX PLUMBING SUPPLIES ,  EAST SUSSEX COUNTY COUNCIL ,  LAYFIELD'S ,  SENATE CONSULTING , CINQUE PORTS RADIO .