Skip to main content
LOOK BACK AT THE 2023 FESTIVAL PROGRAMME
WHAT AN INCREDIBLE FIVE DAYS OF AMAZING MUSIC, FUN AND JOY IN THE BEAUTIFUL TOWN OF RYE
The festival celebrated its 11th year at the end of August as thousands of music fans and families flocked to the beautiful town of Rye, East Sussex. 
Thank you to all those that attended the festival, a special thank you to the town of Rye, the exceptional musicians that performed, our festival partners, patrons, advertisers and our incredible team of professionals and amazing volunteers that make the festival the success that it is.
We presented a jam-packed programme of world class headline concerts at St Mary's church and a range of free live music events at many local fringe venues.
There were so many wonderful highlights to savour and to enjoy, with incredible performances from Laura Mvula, Snowboy and The Latin Section, the incredible Ruby Turner, Mike Farris from Nashville, Mario Biondi, Joe Stilgoe and the mighty Brand New Heavies who closed the festival on Monday 28 August at St Mary's church to a packed audience.
Our free outdoor music stage located within the heart of the town attracted thousands of music fans and families who revelled in the variety and vibrancy of fabulous quality music over three days from Saturday 26 to Monday 28 August! Musicians travelled from far and wide to perform from London, Hastings, Devon, Bristol and from across the southeast.
We are immensely proud to have presented such an eclectic and vibrant mix of music which included Jazz, Blues, Swing, Funk, Soul, Latin and infectious Cuban rhythms.
See the 2023 photo gallery here
Thank you to everyone that made a valuable and much appreciated donation during the three days of our free music performances at the outdoor music stage, and we also express our gratitude to those that supported our crowd funder all of which enabled us to provide the quality free music which is a core and important part of the festival.
We are already working on the plans for the 2024 festival, and we promise you the same high standards in music plus some very exciting additional events that will enhance the festival overall.
MAKE SURE THAT YOU SAVE THE DATES FOR NEXT YEAR – THURSDAY 22 TO MONDAY 26 AUGUST 2024
We look forward to seeing you all again at the end of August 2024 and please do stay connected via social media or sign up to our newsletter for updates.
The festival as always is proud and committed to working with our fabulous charity partners 'The Music Well'.
Check out The Music Well Website 
Cherish the music, share the joy, and keep safe – Ian, Vicki, Kate, and the team at Rye Jazz HQ.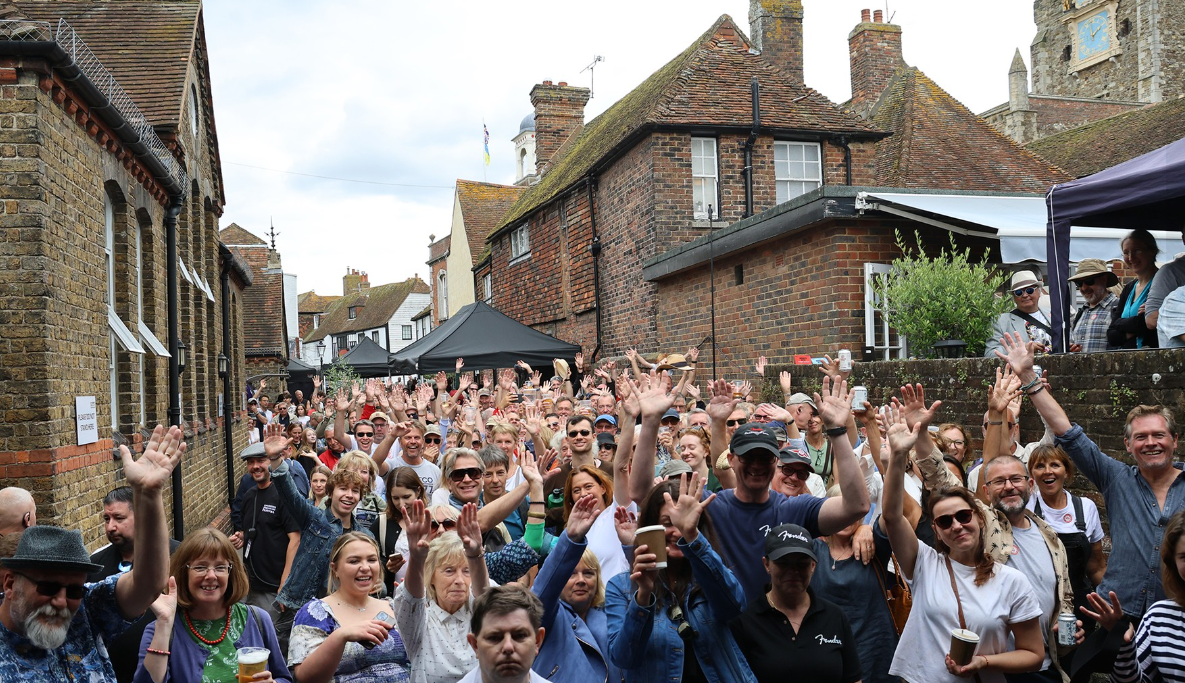 WE PRESENTED THREE DAYS OF QUALITY FREE MUSIC PERFORMANCES FROM SATURDAY 26 TO MONDAY 28 AUGUST AT OUR DEDICATED OUTDOOR MUSIC STAGE LOCATED WITHIN THE HEART OF THE TOWN ON THE TERRACE AT THE KINO CINEMA, RYE