Skip to main content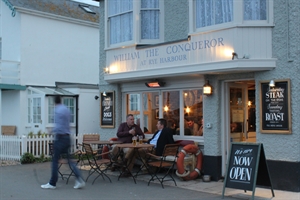 William The Conqueror
Join us on Thursday 25 August from 4.00pm to experience the best 'Acoustic Afternoon Set' of Blues and Roots with Big Pablo & The Mariners. 
Famed as the scene of the Norman invasion, Rye Harbour is a pretty, historic spot on the East Sussex coast - and when you're in town, the William the Conqueror is the perfect place to set up camp.
Recently refurbished, it's a smart, friendly, traditional pub, boasting real ales, hearty pub food and a warm welcome for all. 
There's a large outdoor area here too, with plenty of alfresco seating on the banks of the River Rother - ideal for spotting some of the local wildlife that make this a Site of Special Scientific Interest.
You'll want to eye up the food and drink as well. Known for great ales, this place has featured in the Good Pub Guide, while an international menu of fresh, home-cooked food finds favour with local diners.
Family friendly and (well-behaved) dog friendly - everyone's welcome at the William the Conqueror. Feel free to invade en masse.
To see this map you must have Javascript enabled
Rye Harbour
East Sussex
TN31 7TU
Tel: 01797 223315