Skip to main content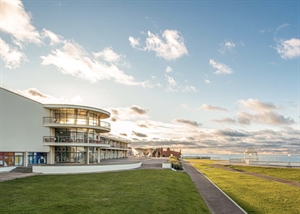 De La Warr Pavilion
The spectacular modernist 1935 Grade 1 listed Pavilion sits just above the promenade on the seafront in Bexhill.
The Pavilion is free to enter, open every day and welcomes everyone. It presents free exhibitions by contemporary artists in two galleries, live music and comedy gigs in the evenings, films, talks and tours and regular events for families, children and young people. In the summer months, you'll find free outdoor music, with bars and food, on the seaside terrace.
The Café Bar, with balconies overlooking the sea, serves delicious made-to-order lunches and sandwiches using locally sourced ingredients,  as well as home baked cakes and scones. You can also go shopping - books, postcards, limited editions, jewellery, designer home accessories and unique DLWP souvenirs are there to tempt you as well as Music's Not Dead, Bexhill's independent record store, in the foyer.
To see this map you must have Javascript enabled
Marina
Bexhill On Sea
East Sussex
TN40 1DP