Skip to main content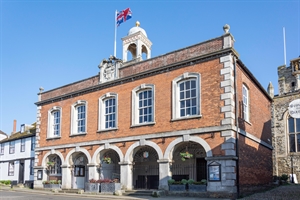 The Buttermarket
The Buttermarket is the open area at the front of Rye Town Hall, not routinely open to the public, this unique outdoor location hosts many of our free festival performances.
Historically, it is where the butter and cheese market was held.
A series of Court buildings stood where the present Town Hall is today.
The market and its transactions were carefully controlled.
One use of the market area was to mete out public punishments, intended to deter further miscreants; there was a time when schoolboys were brought to witness the fate of the accused. 
Fat Brass street marching band will be performing their unique blend of 'Street Jazz' outside the Butter Market on Monday 29 August from 2.30pm. 
To see this map you must have Javascript enabled
Lion Street
Rye
East Sussex
TN31 7LA
Tel: 01797 223902