Skip to main content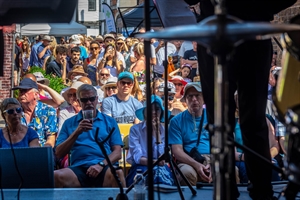 Outdoor Stage Kino Rye
Kino Cinema is equipped with state-of-the-art digital high definition projection and sound equipment to ensure the highest quality viewing experience.
All of the Kino cinemas have fresh air conditioning.
Kino Rye is open from 10.30am daily. Kino Bermondsey is open from 1.30pm daily.
Kino's cinema programme includes the latest blockbusters, kids' movies, foreign-language films, documentaries, shorts, festivals, and special events from world-class venues including the National Theatre and the Royal Opera House.
Kino can also be hired privately as a venue for events, birthday parties and corporate meetings.
Gates open each day From 12.00pm. Performances from 1.00pm to 9.00pm on Saturday 27, Sunday 28 and Monday 29 August. 
A fully licensed bar and food is available at the outdoor stage and please note that no alcohol or food will be permitted to be taken in the site. 
As a non for profit organisation the festival will be asking those that attend our free music events to consider making a donation to the festival which assists in the considerable costs in providing the wonderful free music to all. 
To see this map you must have Javascript enabled
Lion Street
Rye
East Sussex
TN31 7LB
Tel: 01797 226293