Skip to main content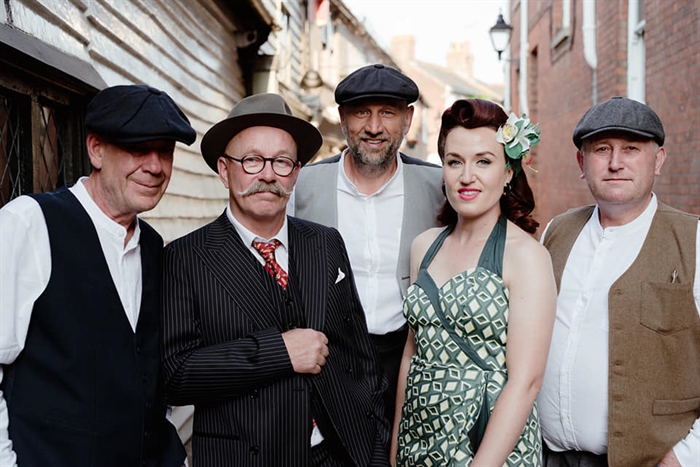 Miss Holiday & The Swingtones
Swing Jive & Jazz Classics On The Outdoor Stage
PERFORMANCE FROM 6.00PM SATURDAY 26 AUGUST 
Miss Holiday and the Swingtones are a 5 piece band with female vocals, sax, piano, double bass and drums.
​ Their mix of swing, jive and jazz classics combined with vintage interpretations of modern songs appeals to a wide range of audiences and age groups.
The band is ideal for vintage festivals, dance events, weddings and celebrations.
All experienced and professional musicians, Miss Holiday and the Swingtones can cater for any size event, from parties through to weddings and corporate entertaining, including a DJ if required.
Miss Holiday Swing, or Holly as she's more commonly known, is a Jazz & Swing Vocalist from the heart of Kent, in England. Her latest album, "Don't Get Around Much Anymore" reached Number 6 in the iTunes Jazz Charts (quite the achievement for an unsigned artist) and she was also voted "Best Live Stream Performance" for the whole of the UK through the Book Entertainment Awards 2021.
WE GRATEFULLY ACKNOWLEDGE AND THANK OUR PARTNERS OF THE FREE MUSIC PROGRAMME FOR THEIR SUPPORT: 
KINO CINEMA RYE ,  JAKE'S DRINKS ,  BALFOUR WINERY ,  PHILLPS & STUBBS ,  THE RYE RETREAT ,  BRAMLEY & TEAL HOLIDAY COTTAGES ,  WILSON WILSON & HANCKOCK ,  CARDINUS RISK MANGENMENT ,  JEMPSONS SUPERMARKETS ,  ROTHER DISTRICT COUNCIL ,  PARKER BUILDING SUPPLIES ,  HERINGTONS SOLICITORS ,  ARTHUR C TOWNER ,  SUSSEX PLUMBING SUPPLIES ,  EAST SUSSEX COUNTY COUNCIL ,  LAYFIELD'S ,  SENATE CONSULTING ,  CINQUE PORTS RADIO .
​WATCH HERE