Skip to main content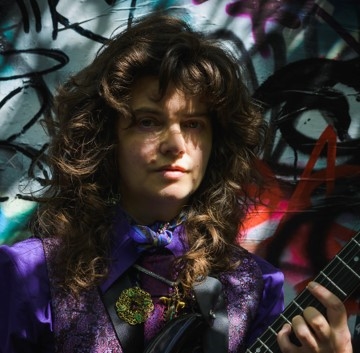 FAYE PATTON NU JAZZ QUARTET
Unique Voice & Pioneering Sound On The Outdoor Stage
PERFORMANCE FROM 2.00PM SATURDAY 26 AUGUST 
Faye is a 'Nu Jazz' singer-songwriter, pianist, and classically trained guitarist - she writes original songs in jazz idiom which combine jazz, funk, pop, folk, gospel, and blues influences with a retro yet contemporary sound that recalls the great divas of the 30's 40's and 50's. Her vocals, (with a register that stretches to heights, depths and lengths that make audiences gasp) have been compared to Judy Garland and Joni Mitchell.
Her prodigious piano playing has been compared to Ray Charles and Horace Silver.
She is a versatile and experienced piano bar player and can entertain for 2-3 hours at a stretch - originals and jazz standards.
Faye gigs both solo and with her talented band, with 6 independent releases so far. She is a regular at Jazz club Toulouse Lautrec and is the in-house pianist/singer for Bermondsey Arts cocktail club. 
A powerful lyricist as well as player, her songs contain an inspirational and unusual LGBT flavour rarely seen on the jazz scene. Faye has been featured as a guest blogger in London Jazz News and has had radio play on BBC Radio Foyle, Radio Jazz Caribe, (Venezuela) Resonance, Real Music FM, and Jazz London Radio and is featured in international jazz blogs and podcasts and the Women In Jazz Media playlist and magazine.
Book features include, 'Women In Jazz' by Sammy Stein and 'Giving Birth to Sound' by Renata De Rin.
Faye has gigged regularly in and around the London scene over the last 20 years. Venues : Soho Theatre Piano Bar, Ray's Jazz, Upstairs at Ronnie Scott's, Stratford Theatre Royal, Upstairs at The Ritzy Cinema, The Vortex, The Green Note, The Pheasantry, Karamel Klub, Toulouse Lautrec, Caffe Concerto, E15 Jazz Sessions, Soderberg Soho, Bermondsey Arts Club, The Troubadour, Temple of Art and Music, Bar Love, Portabello Live Lounge, 100 Years Gallery, Jazz Cafe POSK.
Festivals include Isle of Wight International Jazz Divas, Sidmouth Jazz & Blues Festival, Derry Jazz Festival, Jazznacht Donaueshingen in Germany, Hackney Spice Festival. 
WE GRATEFULLY ACKNOWLEDGE AND THANK OUR PARTNERS OF THE FREE MUSIC PROGRAMME FOR THEIR SUPPORT: 
KINO CINEMA RYE ,  JAKE'S DRINKS ,  BALFOUR WINERY ,  PHILLPS & STUBBS ,  THE RYE RETREAT ,  BRAMLEY & TEAL HOLIDAY COTTAGES ,  WILSON WILSON & HANCKOCK ,  CARDINUS RISK MANGENMENT ,  JEMPSONS SUPERMARKETS ,  ROTHER DISTRICT COUNCIL ,  PARKER BUILDING SUPPLIES ,  HERINGTONS SOLICITORS ,  ARTHUR C TOWNER ,  SUSSEX PLUMBING SUPPLIES ,  EAST SUSSEX COUNTY COUNCIL ,  LAYFIELD'S ,  SENATE CONSULTING ,  CINQUE PORTS RADIO .
WATCH HERE