Skip to main content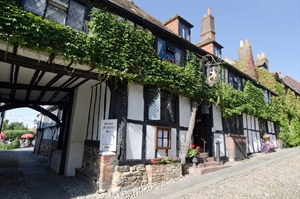 The Mermaid Inn
The Mermaid welcomes travellers, to enjoy the unique experience of staying in a 600 Year Old Inn, dining in a 2 AA Rosette Restaurant and relaxing in the Giants Fireplace Bar, The Tudor Bar, or spending time on the walled patio.
We welcome you to join us at the historic Mermaid Inn, Rye on bank holiday Monday 29 August t o experience a fabulous afternoon of cool summer jazz with 'The Jazznights Ensemble'.
You can book online through the festival website or book tickets directly with the hotel by calling 01797 223065.
The Cellars date from 1156 and the building was rebuilt in 1420 after The Mermaid and the Town of Rye were burnt to the ground by French Raiders on June 22nd 1377.
Experience a drink in the Giant's Fireplace Bar and imagine how the Hawkhurst Gang, local smugglers in the 1730s and 1740s, caroused in the bar. Can you see the secret passageway entrance?
Dine in the linen fold panelled restaurant and enjoy the ambience of the large restaurant, the cosiness of the Dr Syn dining room or the privacy of the Boardroom for your evening meal, lunch and breakfast.
To see this map you must have Javascript enabled