Skip to main content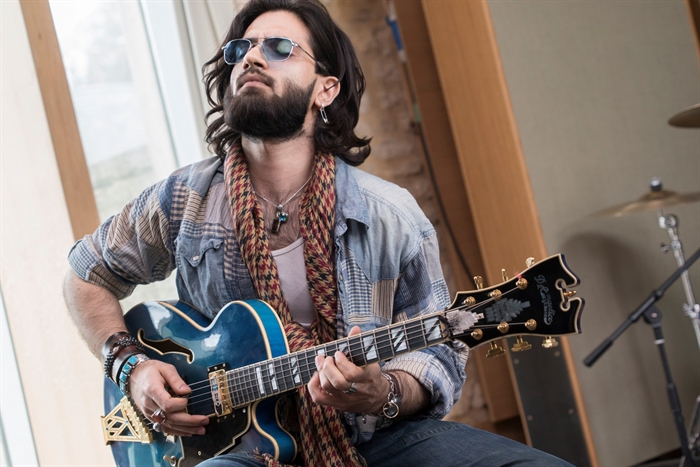 Zayn Mohammed Quartet
Award - Winning Jazz Guitar On The Outdoor Stage
PERFORMANCE FROM 12.00PM SUNDAY 27 AUGUST 
Zayn Mohammed is a London based award - winning guitarist, multi -instrumentalist and producer.
Mentored by the late great Ahmad Jamal & George Benson, Zayn graduated from Berklee College of Music studying with jazz greats such as Wayne Shorter & John Patitucci. Influenced by Indian Raga, Turkish sufi music, and jazz-fusion, Zayn blends the ancient and the modern.
Zayn has cultivated a unique sound of his own in the jazz world, reflected by virtuosic improvisation & deep sense of composition and harmony cultivated through world music traditions. He is currently the guitarist for London jazz legend, pianist Robert Mitchell, with their band True Think.  
Zayn was crowned SKY ARTS GUITAR STAR 2016, he continues to push his musical boundaries by making an unmistakeable mark in the music world.
Zayn says "All instruments have a relevant sound or voice, like colours...the oud is a wise old man speaking, the sarod a beautiful maiden singing, my guitar some days - in-between a dying fender Rhodes and a cheap sax! But I'm grateful to have a rainbow of a palette, from which to paint my picture!".
In doing so, Zayn is known to treat the listener to unique phrasing & undiscovered melodic improvisation. Through his innovate, tasteful incorporation of sounds from his cultures & journey into the music he loves & creates Zayn steps into indefinable territories.
 "He shows what guitar is all about! He's truly a star." - George Benson 
WE GRATEFULLY ACKNOWLEDGE AND THANK OUR PARTNERS OF THE FREE MUSIC PROGRAMME FOR THEIR SUPPORT: 
KINO CINEMA RYE ,  JAKE'S DRINKS ,  BALFOUR WINERY ,  PHILLPS & STUBBS ,  THE RYE RETREAT ,  BRAMLEY & TEAL HOLIDAY COTTAGES ,  WILSON WILSON & HANCKOCK ,  CARDINUS RISK MANGENMENT ,  JEMPSONS SUPERMARKETS ,  ROTHER DISTRICT COUNCIL ,  PARKER BUILDING SUPPLIES ,  HERINGTONS SOLICITORS ,  ARTHUR C TOWNER ,  SUSSEX PLUMBING SUPPLIES ,  EAST SUSSEX COUNTY COUNCIL ,  LAYFIELD'S ,  SENATE CONSULTING ,  CINQUE PORTS RADIO .
WATCH HERE