Skip to main content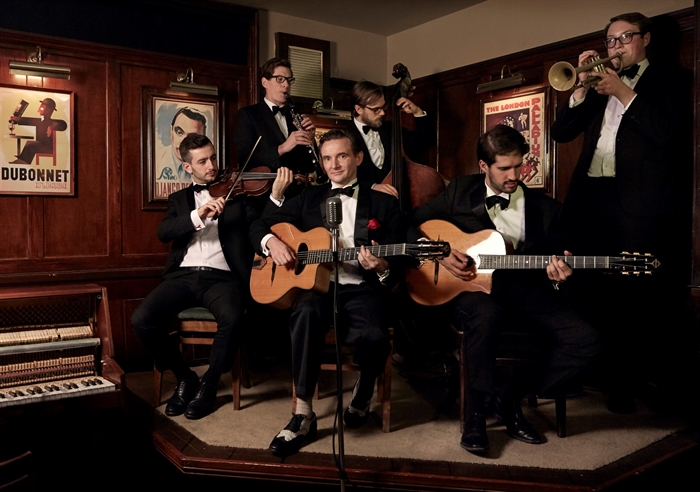 Benoit Viellefon Hot Club
A Blend of 1920s to 1940's Music With Panache
Benoit Viellefon Hot club is a blend of 1920s to 1940's music with panache.
There you can see dancers and listeners alike coming from very far afield to Swing, Balboa and Lindy hop, seating in their best attire. They will now do a rare appearance on the main show downstairs, do not miss it!
Consistently first choice at vintage festivals, high profile events across Europe, as well as boasting residencies in London's most exclusive clubs and concert halls, they have appeared on numerous Hollywood films, national television, and radio, and have played for the likes of the Royal Family and Madonna.
Inspired by the swinging music that emerged from the infamous Parisian Cafes and nightclubs of the 1930s and 1940s, the Hot Club is a unique ensemble that celebrates the popular songs played by artists like Django Reinhardt, Stéphane Grappelli, Yves Montand, to Fats Waller, Nat King Cole, and Ella Fitzgerald.
With all the romanticism and nostalgia of the French repertoire and with a nod to the American jazz virtuosi who visited Paris, the Hot Club is the perfect mix of European finesse and the restless fervour of American hot jazz.
Over the last thirteen years the band has played over 2000 concerts in venues of all shapes and sizes to people of all walks of life. Wherever they play, they never falter in their endeavour to entertain their many audiences, especially those who revel in the nostalgia and elegance of the golden era of entertainment.
They are one of the bands that pioneered the revival of a vintage culture in the late 2000s that has recently swept across all parts of Europe and the USA, a culture whose music, fashion, dance steps and lifestyle have captured the imagination of a new generation.
"If your idea of a good time involves fiddles duelling with clarinets, backed by a rhythm section hotter than the French Riviera in high summer, then this is the disc for you." The Syncopated Times - USA 
"This definitely sounds like a phenomenon worth catching live" - F.Roots magazine - UK
"The most refreshing brand of Gypsy Jazz I've heard". - Bebop Spoken Here - UK
"Effortlessly sweep you away on sonic gossamer wings to the happy, happy place of your choice" - Vintage Rock Magazine - UK